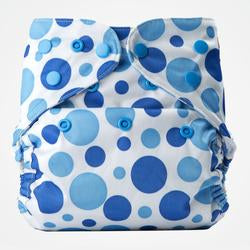 Rs. 780.00
Rs. 0.00
Bumberry Pocket Diaper (Baby-Polka Dots Design)
Preferred by mothers as an Excellent Solution for NIGHT TIME when the diaper's function is mostly urine absorption.
Pocket type is an excellent design for a moving baby as it keeps the absorbing pads held intact without much position change as a baby starts standing and walking by the age of 10-12 months.

Though it can be used for longer hours, we recommend to change the diaper every six hours and keep the baby diaper free for some hours even for any diapers.

Small - Medium - Large Sizes can be adjusted in the same diaper (One Size Concept).
Attractive large variety of colors and patterns available.