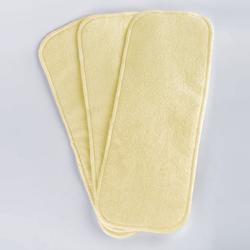 Rs. 720.00
Rs. 0.00
Bumberry Baby Diaper Insert - Bamboo(Set of Three)
Bumberry Diaper Insert Bamboo:
Preferred by mothers as an Excellent Solution for infants when the diaper's function is just absorption and more changes as the urination frequency is very higher for infants. It is made out of viscos fibers from Natural Bamboo. 
More natural fibers enabling it to be a preferred solution for extreme skin sensitivity and are unable to use any diapers.

Best performs when used with a BUMBERRY Diaper Cover fitting to the One Size Design.

Preferred by thousands of mothers as an excellent diapering solution for infants.
If you are looking to help out environment by reducing its waste loads, Bumberry Diapering solution is a great alternative available.