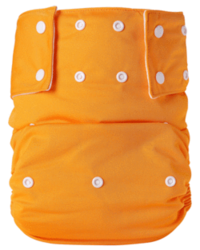 Rs. 890.00
Rs. 1,499.00
Bumberry Seniors (Adult Diaper)-color may vary
Recommended for individuals with incontinence problems, wheel-chair bound adults and bed-ridden patients.

Bumberry reusable adult diapers are comfortable to the end user because it is made of safe textile category polyester CLOTH material.

 

It has one wide 3 layers microfiber inserts for higher absorption that goes inside the pocket stitch.

 

Bumberry seniors cost Rs. 1190/- only; which is actually quite economical compared to the number of disposable diapers used for the elderly. The additional inserts are priced Rs. 385/-, making it a naturally economical choice in the category

Bumberry seniors has mainly three components :
1) outer layer is made of 100% polyester with semi-breathable poly urethane lamination enabling the leak proof mechanism.
2) It has a wetfree fabric stitch which is made of polyester and nylon that allows to permeate urine to the three layer microfiber inserts which are below the microfleece stitch, which keeps the bum dry for minimum two urinations.
3) The three layer microfiber is made of 80% polyester and 20% nylon with excellent absorption capacity.
Bumberry seniors is eco friendly. Unlike the disposable adult diapers, Bumberry Seniors are quite environment friendly choice because of its potential number of washes and re-use.
Bumberry Seniors Adult Diaper can be washed and reused for more than 120 times
Contents: 
One Size Reusable Diaper Cover (Adjusts SMALL-MEDIUM-LARGE in the same diaper 28 to 36 inches) with One 3-layer microfiber insert.
Instructions to use:

Before First Use: Wash in luke warm water, Dry under the sunlight, Please do not pour washing powder onto the diaper insert.
Use the buttons to make the diaper a snug fit. 
Buy additional inserts as per need.