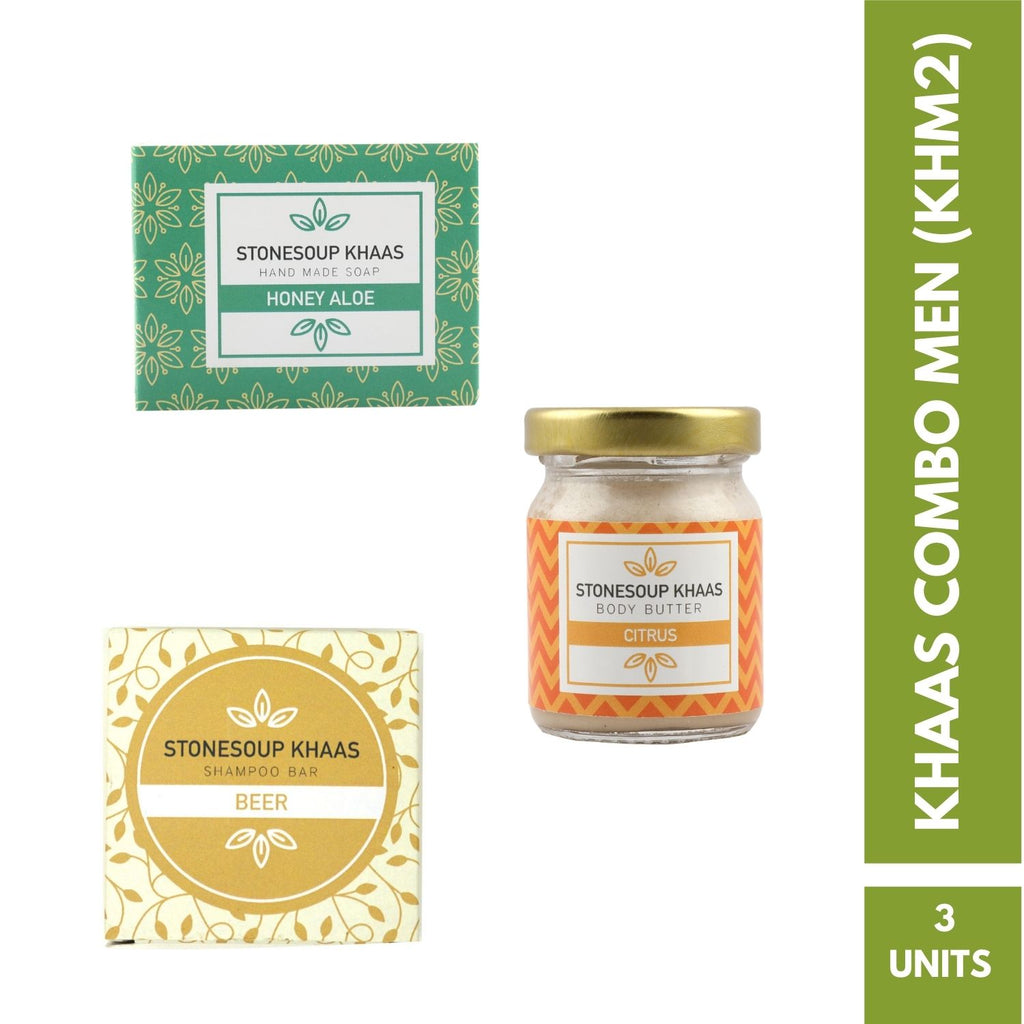 Rs. 800.00
Rs. 885.00
Gift Combo for Men (KHM2) - Bath Soap, Body Butter, Shampoo Bar
Buy Organic, Eco-Friendly and Reusable gifts for your loved ones this Festive Season. Green Gifting ideas from Stonesoup Shop are perfect assortment for those long-lasting relationship ties. Choice of Family gifts, Gifts for friends and loved ones, corporate gifts to choose
. A safe gifting option for both your loved ones and the environment.
Honey Aloe Turmeric Bath Soap -
Honey-Aloe-Turmeric blended scrub soap gives you clean, exfoliated skin that is soft, glowing, and moisturized. Honey-natural antioxidant, protect from the ill effects of sunrays.
Aloe Vera-Replenishes Skin giving a radiant glow.
Turmeric - Effective in treating acne and most skin issues & tanned skin.
Oats - Acts as a gentle scrub.
Citrus Body Butter - 
Body butter is a moisturizing product designed to keep moisture in your skin by providing a protective barrier. It also includes other natural ingredients containing vitamins and minerals thought to help keep your skin healthy. Body butter is thicker and so it may stay on top of your skin longer which can help reduce loss of moisture but won't directly moisturize. In this case, it's best to apply the body butter to pre-dampened skin(after a shower). Body butter contains Kokum butter, coconut oil, almond, jojoba & argan oil. It's thicker than lotions and has both easy to absorb and slow to absorb fats making it extra effective at rejuvenating dry skin, whether used all over the body or only on problem patches, such as elbows, knees & feet.

Beer Shampoo Bar - 
Easy to use bar with conditioner with zero waste and no non-sense, no sulfates, parabens, and no plastic packaging. Unlike commercially made soaps, our soaps are passionately handcrafted with natural ingredients chunks of goodness that your scalp & hair would absolutely love & want more! Along with beautiful hair, these handmade soaps leave you with a sense of pride. Beer: A most effective treatment for dry hair. Nourishing the hair apart from being a natural conditioner makes hair soft. The sugars in the beer make hair shiny. Coconut Milk - Nourishes the scalp, adds moisture from root to tip.